How A Smartwatch Can Be your Perfect Health Accessory
Posted by INTEX TECHNOLOGIES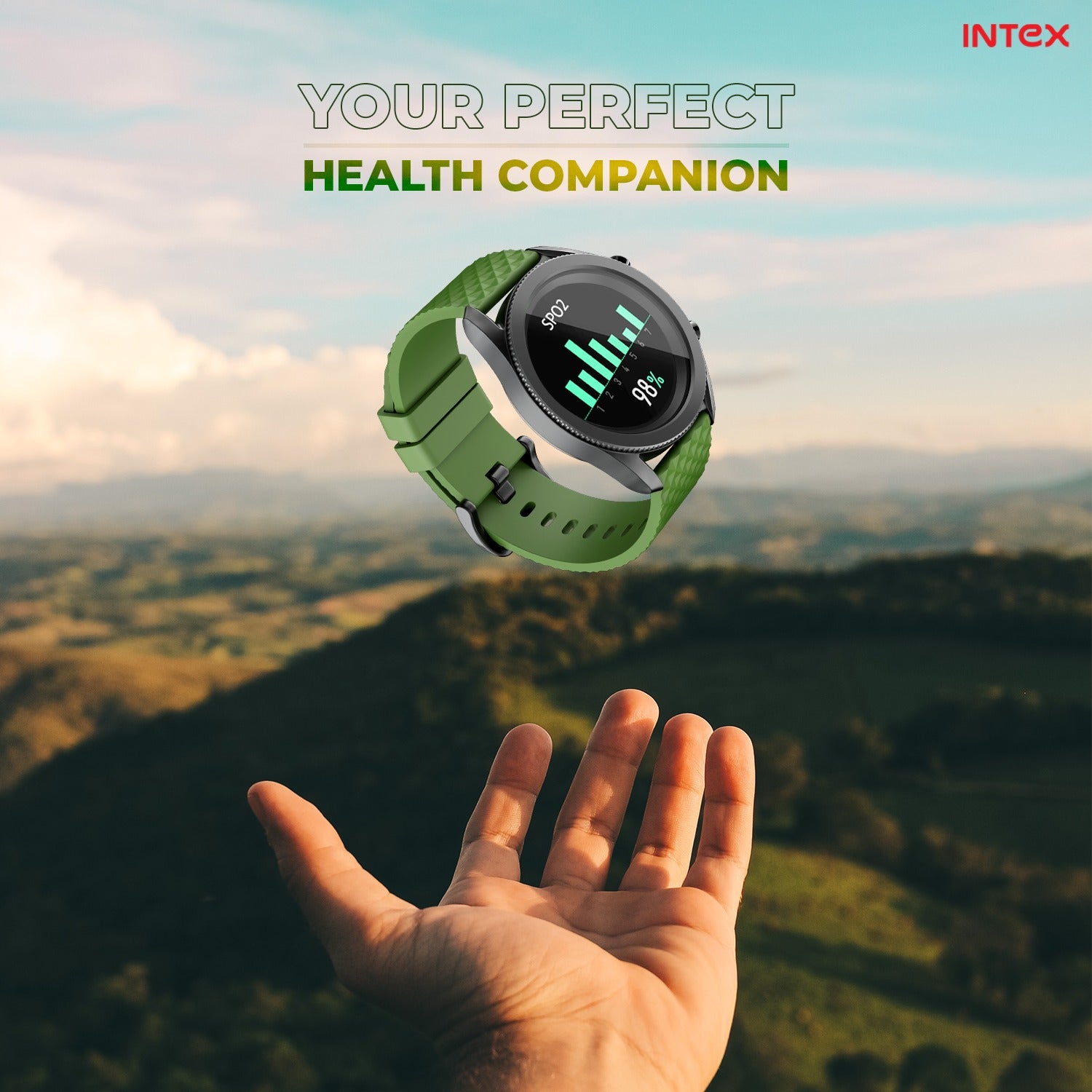 Let's face it! With the rising technological inventions, our lives are becoming simpler and the need to stay on top of everything, be it related to health, wellness, or our general state of being seems to have taken a backseat.  
But, with the advancement in technology, so is there an advancement in the way we keep a track of the things that matter for us. Smart devices have made steep inroads and so have their various uses! From smart audio devices to smartwatches, these products are all around us and we use them effortlessly and efficiently. So, what exactly is a smartwatch and how can it be used efficiently is what this blog will talk about.  
As you all know, a smartwatch is a small wearable computer that is designed to be worn on the wrist. Most Calling smartwatches are connected to your smartphone and can help you with tracking incoming calls, messages, etc. on your watch itself without having to access your smartphone for it. The latest designed smartwatches also have inbuilt pedometers, sleep trackers, hydration reminders, blood pressure, oxygen levels, activity and health trackers to help you keep a close watch on your health. These can either have full touchscreens or physical buttons or sometimes, a combination of the two.  
So, how exactly does a smartwatch help you overcome lethargy and stay healthy and active at all times? Well, for starters, it helps you track your heart rate, keeps a count of the steps you have walked, gives you periodic hydration and walking reminders, and also helps women keep a track of their menstrual cycle. Let's discuss each of these points in detail below:  
Smartwatches Encourage Physical Activities – With a host of activity trackers, a smartwatch is designed to encourage the wearer to indulge in a host of physical activities and also keep a close look at the calories they have burnt by following through with the activity. Every smartwatch has some basic smart sensors that help you record the total steps walked in a day. These also have various sports modes to help you track the calories burnt when one indulges in sports, be it walking, cycling, running, basketball, badminton, cricket, and many more. Some watches also keep daily, weekly, and monthly records.

 

Smartwatches Keep a Close Record of Health – Some smartwatches also keep a close watch on our health with its various smart sensors. Smartwatches with sensors like blood pressure management, heart rate detection, and SpO2 measurement help you keep a close watch on your health and record any abnormality. Another important health feature of a smartwatch is the ability to track your light, REM, and deep sleep cycles. There are 3 levels of us falling asleep, which are light, deep, and REM sleep. In light sleep, one tends to wake up at the slightest sounds, in the REM sleep stage your body begins to relax and you tend to travel between light and deep sleep stages. The deep sleep stage is the most important stage as it helps your body relax, process thoughts, and physical recovery happens.

 

Smartwatches Allow you to Set Timers – When doing a timed activity, a smartwatch can help you set a timer so that you get an idea about the time it is taking you to do it and how can you improve your timing for the activity. From a timer to a stopwatch, a smartwatch can help you with a host of activities. Some smartwatches also give you hydration reminders to make sure you are drinking water at regulated intervals so that you are hydrated fully. A walk reminder on a smartwatch is also a necessity as with our lethargic and laidback lifestyles, it is important that we get to exercise our body and take small scrolls in between our constant sitting jobs.

 

Smartwatches work Almost Everywhere and Under Most Circumstances – Most smartwatches are tested under extreme conditions to make sure that whatever situation you may be facing or living and working in, your smartwatch works for you. These smartwatches are dust-resistant and splash-proof making sure that if you are trekking somewhere or going for a quick run, the smartwatch works smoothly without any issue.

 
While smartwatches can help you monitor your health stats, it's still very important to see your doctors for routine checkups or when problems arise. Intex has a range of exciting smartwatches to make sure that you can keep a check on your health and track your activities effortlessly. Let's have a close look at the features of the smartwatches range of Intex: 
FitRist Active - The new FitRist Active is designed to energise your lifestyle. Sporting a host of good quality features and must-have essentials, this will be your most favourite companion in everything you do. It is your ideal choice to keep a record and closely track your activities. With amazing features like BT calling, notification management for up to 10 apps, SpO2 sensor, activity tracker with 8 modes, pedometer, customisable watch faces, and IP67 water resistance, it is all you will ever need and more.

 

FitRist Style - Healthy Living in Style comes naturally with the FitRist Style. With amazing, top-of-the-class features and a sturdy premium body, the FitRist Style will be your favoured companion. It has a 1.4" Vision Glass Display for a bright display of colours, and 7 days of amazing battery life. It has smart sensors for precise tracking of your REM sleep, a blood oxy meter, a 24*7 heart rate detector, and various other trackers for smooth tracking! With over 200+ watch faces designed to give you a new look every day, you can bet on it being your most favoured companion.

 
You can check out the entire range of Intex smartwatches here: https://www.intex.in/collections/smartwatch.
Collection 2019
Sale 70% Off
Title for image