Smartwatch: History, Features, and Growth
Posted by INTEX TECHNOLOGIES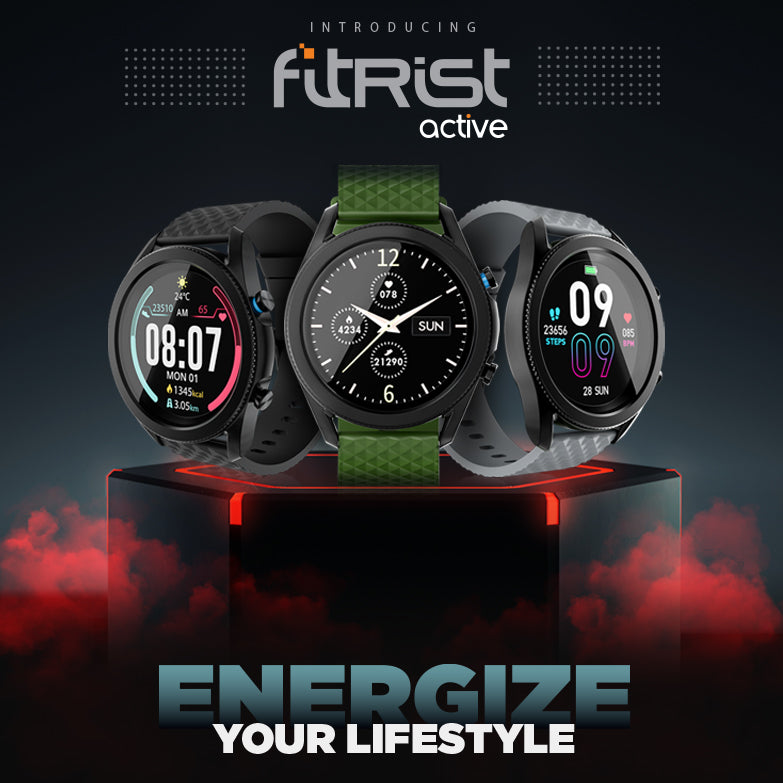 Who could have thought that a mini portable computer could be carried around on our wrist? And that too, effortlessly? The smartwatch was designed keeping in mind the same thought. Much like a smartphone, a smartwatch is designed to be worn on the wrist and it is able to track your heart rate, oxygen levels, among other vitals.
Smartwatches were initially made by Apple prompting Google to also launch their versions of the smartwatches. These came with a host of features and were well-received by people everywhere. The top smart watch companies came out with their own specialised versions of the smartwatch and added a host of features to make these even more unique and specific to their use case.
But what prompted these top smart watch maker companies to actually start investing in this technology and from where did this actually come into theory? Let's find out below:
A Brief History
Digital and analogue watches have been around for decades. However, smartwatches have very recently come into existence. The first smartwatch was the Seiko Ruputer, which was launched in 1998 that could run applications and connect to a PC, via a docking station. Through an eight-way joystick below the screen, you could write memos, make calendar appointments, and update your to-do list. The smartwatch also allowed you to log in your expenses, play games, and even use a calculator; all from the convenience of your wrist. However, the first reviews of the smartwatch called it "bulky and huge on the wrist". It was required to be worn on the cuff of the shirt one is wearing and not below it because of its size.
The smartwatch, as we know it, was launched in 2004 with the Microsoft SPOT (Smart Personal Object Technology). It received weather, news, and stock updates through FM radio. The SPOT also received emails and instant messages, but users could not reply to these. With the rise of smartphones, smartwatches like the Sony Ericsson LiveView (2010), the Pebble (2013), and the Apple Watch (2015) emerged that received data from a phone. In 2014, Google developed Android Wear specifically for wearable devices like a smartwatch.
When top smart watch company, Pebble announced its first smartwatch in 2013, it raised a record amount of funding and went on to sell more than one million units. At the same time, technology advancements made it possible to manufacture specialised smartwatches.
Features of a Smartwatch
But, why use a smartwatch, when it doesn't provide any special feature that a smartphone doesn't? Each top smart watch company must have thought a lot before coming up with their own versions of it. So, what does a smartwatch do differently than a smartphone? Whether a smartwatch is meant for generic or a specific use, they offer a set of basic features, as listed below:
Notifications: When you pair your smartphone and smartwatch, it allows you to view notifications for up to 10 apps and you can then choose to reply to the most important ones without getting distracted by every incoming notification. Most top smart watch companies provide this feature in their device but the fitRist Active also allows you to instantly clear these too.
Media Management: A lot of top smart watch devices allow you to control your music when paired with the phone and the music wearable you are using. Your smartwatch allows you to change, pause/ stop, or play your favourite track. The fitRist Active also allows you to click amazing pictures and you can control the shutter of your smartphone easily.
Answer Calls Easily: The FitRist Active smartwatch comes with an inbuilt mic and speaker that allows you to easily answer and dial calls. You can activate it easily by pairing your watch and phone and using the Bluetooth feature. The inbuilt dial pad, contact viewing, and call logs are easy to access and use.
Health Tracking: Everyone is fitness conscious these days and a smartwatch is your best bet if you want to keep a close watch. The fitRist Active allows you to regularly track and monitor your heart rate, blood pressure, SpO2 levels, distance covered, it has a pedometer, a sleep monitor, and also a hydration reminder. Well, if this doesn't excite you to buy a top smart watch device, then we don't know what will.
Activity Tracker: Most top smart watch devices track the steps you have covered in a day and give you a daily, weekly, and monthly report on the app. The fitRist Active smartwatch has 8 activity trackers including basketball, football, walking, running, cycling, skipping, badminton, and even swimming. So, whatever activity you do, your fitRist Active is always there for you.
Amazing Battery Life: Lots of top smart watch wearables have massive batteries and fast charging options. The fitRist Active smartwatch has a 7 days battery backup and fully charges in 2 hours. It also has an amazing 45 days standby and works longer.
Market Growth in the Future
With health and fitness seeing an upward trend, most people will very soon switch to devices that allows them to easily track these variables on a daily basis. Microcomputer wearables on their wrists in the form of smartwatches that helps solve this purpose are sure to see huge growth.
Most top smart watch companies saw a huge growth in the late 2010s in terms of global market adoption. The top smartwatch devices have seen exponential growth and most people seem to adapt to this technology faster and efficiently. These devices come in all price ranges and mostly everyone is able to afford these. It is estimated that by 2023, 130 million smartwatches will ship worldwide.
So, what are you waiting for? Go, grab your fitRist Active smartwatch today and enjoy a host of amazing features.
Collection 2019
Sale 70% Off
Title for image