Soundbar - Should You or Should You Not Invest in Them?
Posted by INTEX TECHNOLOGIES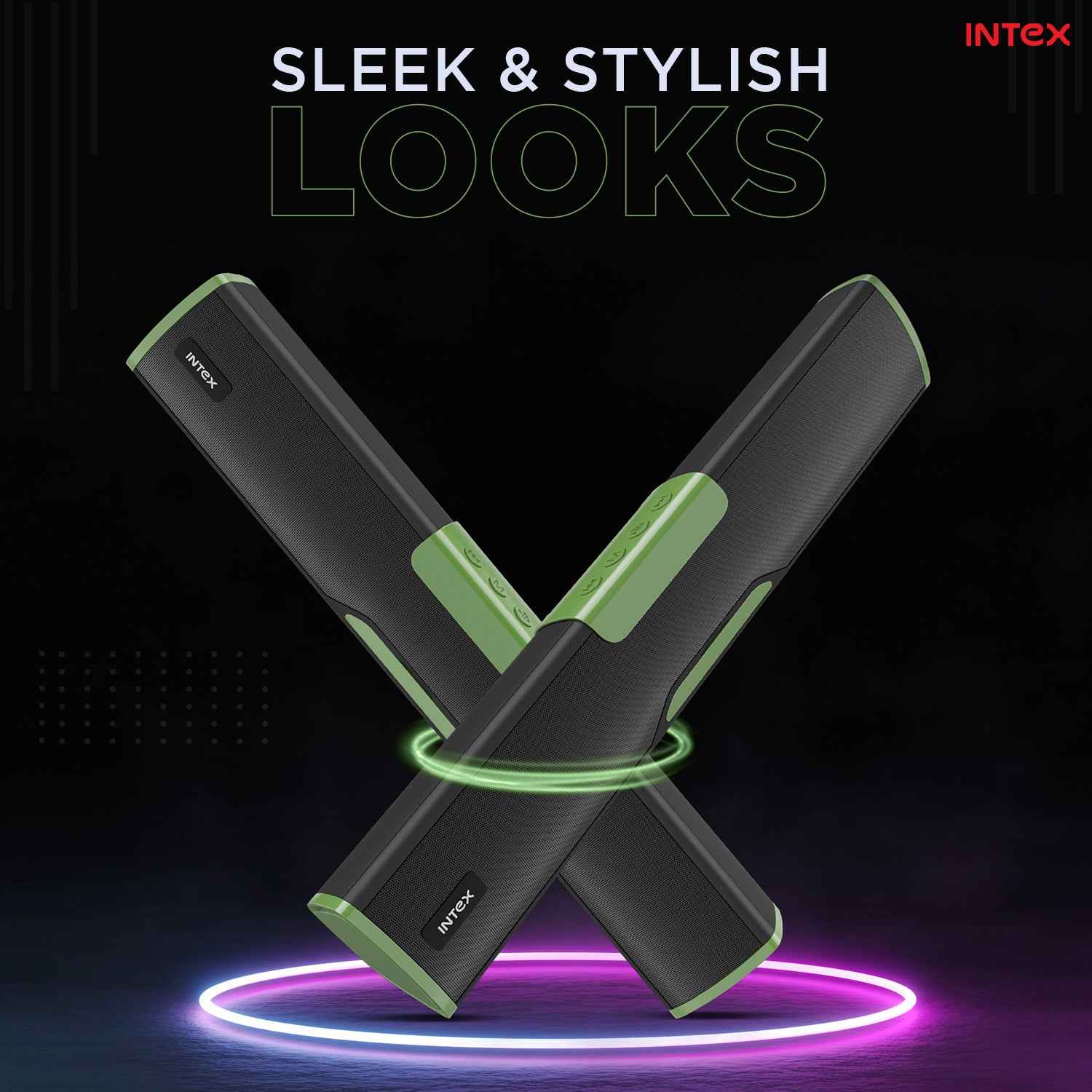 In the way we entertain ourselves, there has been a sea change since time immemorial. From roadshows,  nukkad natak, live plays, to later satellite TV marking an entry in our lives. In today's day and age, TV, radio, the internet, and even social media play a huge part in our lives by entertaining us!  
The sound output of our audio equipment plays a huge role in how much we enjoy our free time and how immersive the experience is. If you want your audio experience to be theatre-like, then investing in a soundbar is one of the best options out there! But, why invest in an external device when our existing equipment has inbuilt audio devices? Well let's face it, with LED TVs becoming thinner, the quality of the speakers has come down and to make sure that the sound output is amazing, an external audio device is the most important thing.  
But what exactly is a soundbar?
A soundbar is a cylindrical log-like, sleek equipment that has multiple speakers placed side-by-side.  It can be placed below your television or can be placed in front of it. It can be easily connected to your television via a single cable and there are no multiple wires to worry about. It can also be classified as a speaker system in a single cabinet. For venues where you don't want to show a huge sound system, a sleek soundbar comes in handy. Bigger soundbars also come with a separate woofer that can be placed anywhere in a room where you want the maximum sound output to be audible.
A soundbar complements your TV setup not only when you watch something, it also gives you an unparalleled experience while playing games or when you wish to relax or party with your favourite music. Modern soundbars have Bluetooth technology that allows you to carry your music wherever you go with a huge battery backup! The biggest reason why a soundbar is a preferred arrangement for everyone is because it occupies less space, it is hassle free, is relatively cheaper, and has minimal to no cables. There is a choice for everyone in the market as per their requirements and budgets.  
So, if you are a video game fanatic, an avid OTT platform watcher, or a music aficionado, there is something for everyone as a soundbar is a great way to get an epic sound experience. If you need even more convincing as to why a soundbar is the best bet, below are a few reasons we hope will convince you: 
1. Amazing Sound Quality and Output
It's time to enjoy the content you love with the sound it was intended to be enjoyed by enhancing the sound with an external sound system. With slimmer television screens being introduced, the space to add better quality speakers is diminishing. It is all the more important that you get an external audio system that goes well with the high-quality content that you are viewing. Soundbars these days are constructed to deliver high pitch audio that is richer, more realistic, and gives a better sound output.  
2. Enhance your Experience
A soundbar is the best example of bigger output in a small device. Whether it is a Cricket match you look forward to or your next binge watch session, just add a small soundbar to your video device and get set to be wowed by the overall enhanced sound and video. Since the soundbar fills the room with the audio, it creates an immersive, clearer and a more powerful experience. A soundbar is the ideal companion to bring your content to life.  
3. Easy and Quick Setup
A soundbar is a relatively easy to set up device. It has sleek looks, classy colours, and a minimalistic design that doesn't look odd in your aesthetically designed house. With amazing features such as plug and play, Bluetooth connectivity, space saving, WiFi enabled, and less to no wires, these are your ideal playmates. So, not only does a soundbar enhance the audio, it also adds to the look and feel of your room. A soundbar installation will take you less than 10 minutes but the outcome will be even more amazing. Just charge it for the first time if it has a rechargeable battery, connect the HDMI cord of your TV with the LED, change the sound settings of the system, and you are good to go!
4. Ideal for Gamers
If you have a gamer at home, then a soundbar is your best bet for them to enjoy a great gaming experience. The audio output, latency of sound, and the gaming experience will give them another high and make sure the gamer has an amazing experience.  
Well, if all these reasons don't convince you then we don't know what will convince you that an external soundbar is the best investment for your home to enhance your experience. The collection of soundbars on Intex will give you an amazing experience with their high-quality sound output, the top-of-the-class features, and good quality looks. You can check these out here: https://www.intex.in/collections/sound-bar.
Collection 2019
Sale 70% Off
Title for image