Overview
Specifications
REVIEWS
Overview
Cosmic FMUB 5.1 CH 90W Multimedia Speakers
This speaker offers the option to be simply controlled with an IR remote and has 5.1 Bluetooth connectivity with a 10m range. It even has an integrated FM and supports 32 GB of USB storage. With this immersive speaker, your musical sessions can be recorded, and the display is LED-enabled.
Astonishing output of power
90W (30W + 12W x 5)
Ultimate sound experience with pure 90W power output and 5 speakers.
Fully Functional Remote Control
Experience comfort and design at it's finest with an all in one system including Remote Control, Digital Control Enabled LED Display, Rotary Volume & Bass Control.
Ease of Recording
Record your favourite music on the go with FM & BT to USB.
FM/USB/BT/AUX/DVD
Connect all your devices with multi-port system for comfortable use.
Bluetooth Connectivity V5.1 With 10m Range
Enjoy seamless musical experience from anywhere with Bluetooth Connectivity V5.1 with 10m range.
Specifications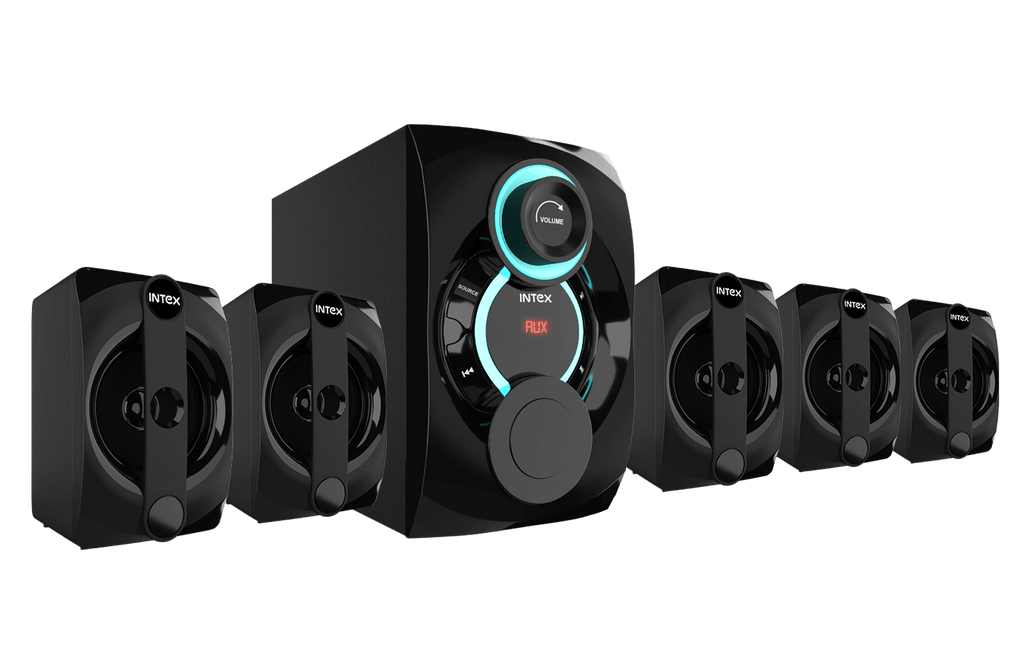 90W(30W+12Wx5) Power Output
Driver Size Main unit: 13.33 cm (5.25"") Satellite : 7.62 cm (3"") x 5
Bluetooth Connectivity V5.1 With 10m Range
Record your Musical Sessions
Control You Music with Fully Functional IR Remote
Multi Playability of Aux, USB and Bluetooth
USB Support of 32 GB
Analogue Control of Encoder with glower (For Master/ Individual Volume)
Rejoice the Akashvani Days with Inbuilt FM on the Go
Informative LED Display
Immersive Glowing Lights with Music
12 Months Service Warranty
REVIEWS
FAQs
1. What is the total sound output for the Cosmic FMUB?
The total sound output for the Cosmic FMUB is 90W.
2. Does the Cosmic FMUB have Bluetooth connectivity?
The Cosmic FMUB has v5.1 BT connectivity with 10m range.
3. Which connectivity modes does Cosmic FMUB support?
The Cosmic FMUB supports USB, BT, and AUX modes of connectivity. It has an in-built FM radio and the ability to record your music sessions.