Overview
Specifications
REVIEWS
Overview
Dazzle FMUB 4.1 CH 78W Multimedia Speaker
You only need the 78W power output and the 17 mm overall driver size to provide your home with outstanding sound. It has 5.1 BT connectivity with a 10m range and the ability to be simply controlled by an IR remote, making it a truly wireless speaker. It even has an integrated FM and accepts USB drives up to 32 GB. The display has a 12-month warranty and is also LED-enabled.
Great Power Output of 78W
(30W + 12W x 4)
Enjoy the seamless audio enjoyment with a special quad speaker setup using 78W power outage.
USB/FM/BT/AUX
USB/FM/BT/AUX ports for ease of use anytime anywhere.
Conveniently Control Your Music with an IR Remote
Control your music experience with all built-in functionalities like Remote Control, Digital Control Enabled LED Display, Rotary Volume & Bass Control.
Specifications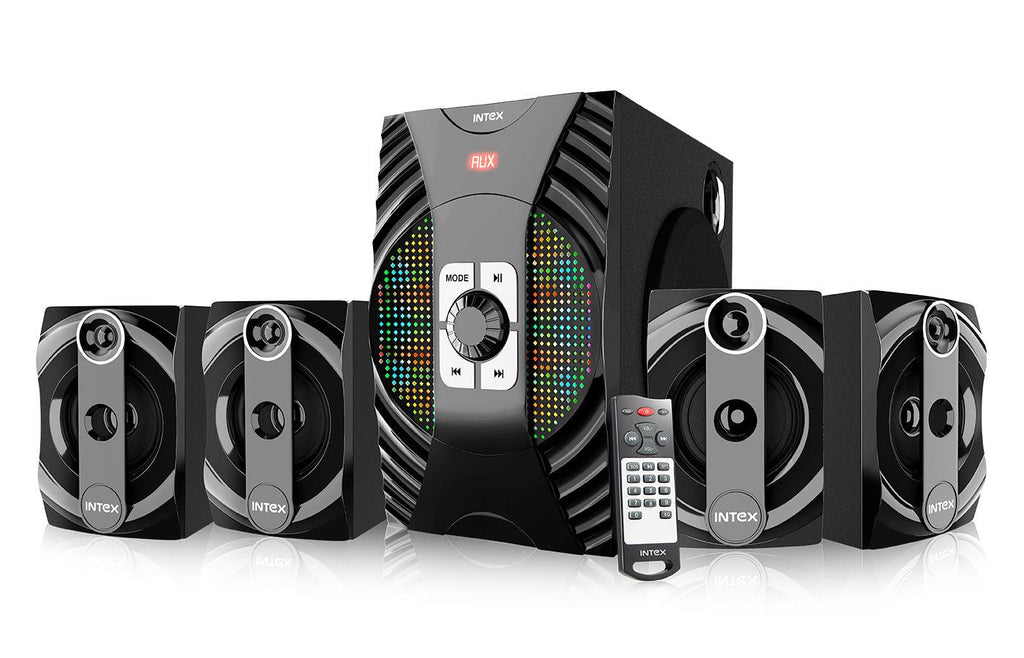 78W (30W + 12W x 4) Power Output
Driver Size Main unit: 13.33 cm (5.25"") Satellite : 7.62 cm (3"") x 4
Bluetooth Connectivity V5.1 With 10m Range
Record your Musical Sessions
Control Your Music with Fully Functional IR Remote
Multi Playability of Aux, USB and Bluetooth
USB Support of 32 GB
Analogue Control of Volume, Bass
Rejoice the Akashvani Days with Inbuilt FM on the Go
Informative LED Display
Service Warranty of 12 Month
12 Months Service Warranty
REVIEWS
FAQs
1. What is the total sound output for the Dazzle FMUB?
The total sound output for the Dazzle FMUB is 78W.
2. Does the Dazzle FMUB have Bluetooth connectivity?
The Dazzle FMUB has v5.1 BT connectivity with 10m range.
3. Which connectivity modes does Dazzle FMUB support?
The Dazzle FMUB supports USB, BT, and AUX modes of connectivity. It has an in-built FM radio and the ability to record your music sessions.