Things You Need to Keep in Mind When Investing in a LED TV For Your Home
Posted by INTEX TECHNOLOGIES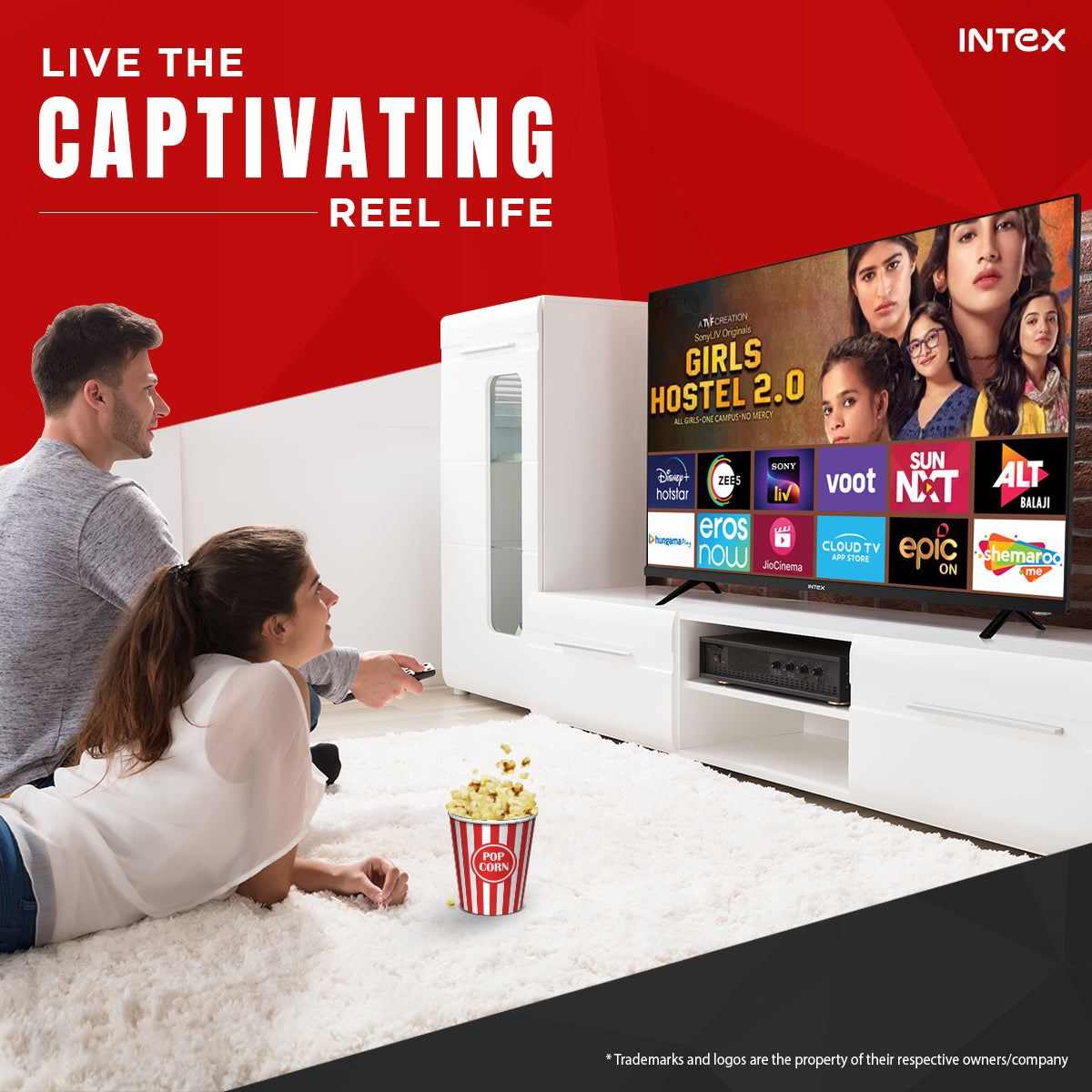 "The television is where I saw my first cartoon, my first movie, my first series and so it will never be replaced with the smartphone I use today." Anonymous 
Truly, most of us have amazing memories associated with television viewing. We have gone from viewing everything on a Black and White screen to basic colours to LCD TVs to now LED TVs with the latest technologies. We had televisions that showed only 1 channel which had no remotes and used to be operated from basic knobs and buttons on the television itself to now when an app in our smartphones allows us to control the various settings, change the channels, and adjust the volume. 
So, with this ever-changing technology, it is important to keep a lot of things in mind when you go out to buy a new television set. You want to keep in mind your room size, your specific requirements, your budget, brand preferences (If any), among the other things. Let's learn and talk about each of these in detail. 
Important Points to Keep in Mind 
1. Room Size – The first thing to decide before buying an LED TV is the size of the room you will be placing it in. It is important that your LED TV fits appropriately in the room and is neither too big nor too small as per your room size. An ideal distance of 8 feet should be maintained between the TV screen and the people sitting down to watch it. Today, there are a variety of options available in the market for the best viewing experience. From 24" to 55" screens, you can choose your most ideal setting as per your requirements. 

2. Screen Size – Another important thing to keep in mind when you go buy a LED TV, is the screen size. A LED TV screen size is measured diagonally. So, go for the screen size that you feel will be the most ideal for you! If you are on a budget, then go for something that will fit your budget and if that is not a constraint, then you can go for something that matches your standard and also fulfills your requirements.

3. Specifications – When buying a television for your home, keep in mind your requirements basis the screen resolution, the speaker quality, whether you are looking for a Smart TV or a normal TV or an Android TV, and other requirements. Let us look at each of these specifications in detail:
a. Today there are screen resolutions ranging from HD Display, Full HD Display, to even 4K HD Display and the basic difference is the number of pixels in each screen or the resolution size of the picture quality. The sharpness of the picture is what pixels refer to. A HD TV has a 720p display and is ideal for those who do not watch television frequently and so for them, a HD TV works fine. HD TVs were the initial advancement from LCD TVs so the picture quality is fine but it is not phenomenal. Ultra HD TVs or 4K HD TVs have amazing picture quality upwards of 1080p which means that every frame is a burst of great colours. So, if your budget allows and you use your LED TV for longer durations, then this is what you should invest it. 
b. There are multiple kinds of speakers in an LED TV, which can be either open speakers, side speakers, or box speakers. The wattage of speakers defines their sound quality so the higher the wattage, the better will be the sound output.
c. Most LED TVs being made today are Smart TVs which are also known as connected TV (CTV). It is a traditional television set with integrated Internet and interactive Web 2.0 features that allow users to stream music and videos, browse the internet, and view photos. * So, do keep in mind what your requirements are and on the basis of that, you can choose the most ideal LED TV for you. There can be different operating systems, like Android which is powered by Google and webOS powered by LG. The Smart TV allows you to watch your favorite OTT apps on the big screen as all major OTT players, like Netflix, Amazon Prime, and YouTube are integrated into the system already and are easily accessible. These Smart TVs are available in a wide variety of ranges and you can choose the one that best matches your requirement. 
4. Brand – Today, there are a lot of brands in the Indian market and there is an intense competition that results in better models and pricing for the average consumer. There are not just Indian brands, but also international brands in the market that have brought in the latest innovations to the benefit of the customer. When going through several brands you must consider the reputation of each of them and prefer the one with a good name. Buyers can read customer reviews on online forums which will help them make good decisions. so, not to forget do not forget to inquire about the after-sales services of that particular brand. Good after-sales services mean good durability. 
5. Warranty - Extended warranty is always better. When you buy an electronic appliance or gadget you must always pay attention to the after-sales services. Warranty is an important part of after-sales service and the more the warranty of a product the better it is. When you go to buy a LED television first quickly enquire about the warranty period of the television. Now you might also be aware of the term extended warranty. For those who do not know about extended warranty, it is an extension of your warranty period after you pay some extra money to the seller. But not everyone needs a warranty. These LED televisions already come with a good warranty period and if you are satisfied with the reputation and quality of the television, you must not waste your money on an extended warranty. 
So, these are a few things you should definitely keep in mind before purchasing your new LED TV. You can check out the entire range of LED TVs from Intex here: https://www.intex.in/collections/led-tv   
*Reference - https://en.wikipedia.org/wiki/Smart_TV 
Collection 2019
Sale 70% Off
Title for image