Overview
Specifications
REVIEWS
Overview
Bang Plus FMUB 4.1 CH 78W Multimedia Speaker
With superb sound quality, lies a 78W power output which is a 16 mm overall driver size. It has 5.1 connectivity of Bluetooth with a 10 metre range and the capability of being simply controlled by an IR remote. It even has a built-in FM and supports USB drives up to 32 GB.
Strong Power Output
78W (30W + 12W x 4)
You only need the 78W power output to give your home a superb audio experience. It makes a signal with the help of electricity, which is subsequently reproduced as a thudding noise.
Fully Functional Remote Control
Our IR Remote gives you well-built functionality and enables you to operate practically all of the features with a single tap. Our Speaker has a fantastic display to show off the specifics.
USB/FM/BT/AUX
Features a number of ports including AUX, BT, FM & USB.
Ease of Recording
The sound can be recorded with multiple slots available
Bluetooth Connectivity with 10m range
You can enjoy your music even from a distance, thanks to the Bluetooth V5.1 Connectivity that can connect in upto 10m range.
Specifications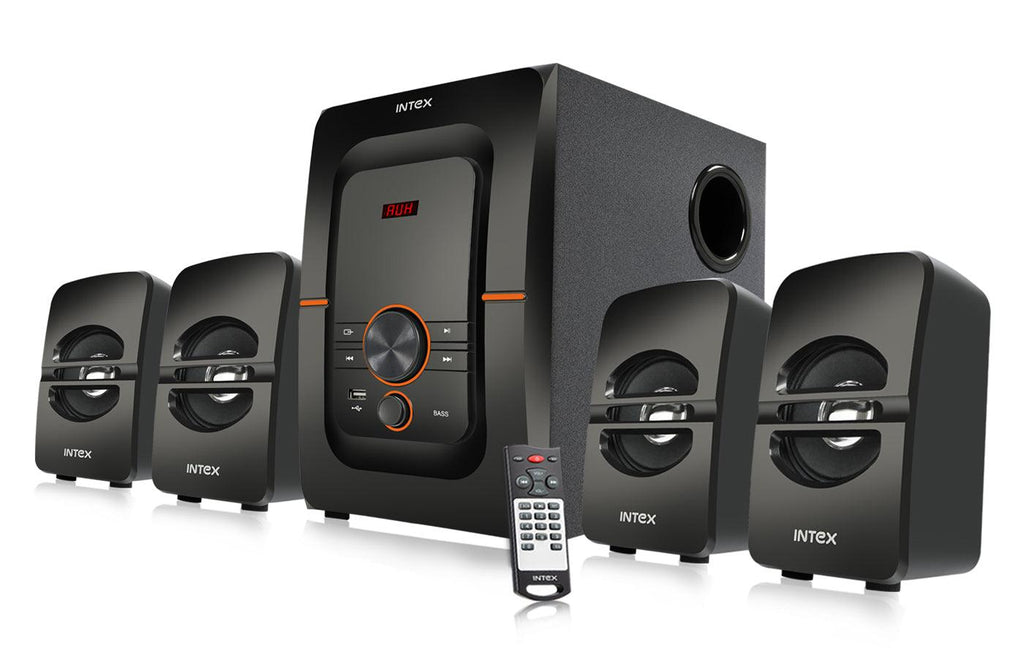 78W (30W + 12W x 4) Power Output
Driver Size Main unit: 10.16 cm (4"") Satellite : 7.62 cm (3"") x 4
Bluetooth Connectivity V5.1 With 10m Range
Record your Musical Sessions
Control You Music with Fully Functional IR Remote
Multi Playability of Aux, USB and Bluetooth
USB Support of 32 GB
Analogue Control of Volume, Bass
Rejoice the Akashvani Days with Inbuilt FM on the Go
Informative LED Display
12 Months Service Warranty
REVIEWS
FAQs
1. What is the total sound output for the Bang Plus FMUB?
The total sound output for the Bang Plus FMUB is 78W.
2. Does the Bang Plus FMUB have Bluetooth connectivity?
The Bang Plus FMUB has v5.1 BT connectivity with 10m range.
3. Which connectivity modes does Bang Plus FMUB support?
The Bang Plus FMUB supports USB, BT, and AUX modes of connectivity. It has an in-built FM radio and the ability to record your music sessions.